Heat Exchanger Manufacturers in India
Water Heat Exchangers Manufacturer INDIA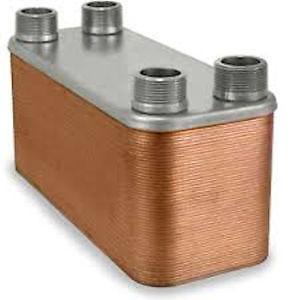 The water to water heat exchanger design differs from steam heat exchangers.
The water to water heat exchanger has internal baffles to direct the water flow across the tubes to improve heat transfer.
Water to water heat exchangers are externally distin-guishable as the shell inlet and outlet tappings are the same size;
steam heat exchangers have a large vapor opening in the top of the shell and a smaller condensate outlet in the bottom.
A dirty water heat exchanger keeps solids from settling out while passing through the heat exchanger and includes a cylindrical furnace duct, connected at a first end to a conventional burner, having a spiral liquid heating duct along which the dirty water passes from its first end to its second end.
The unit is made of all copper with brazed connections. The heat transfer fluid connections are 3/4 inch and the hot water connections are 3/4 inch for universal fit. This unit can be used in solar thermal systems with approximately 64 square feet of collector surface area.
This indirectly heated potable water tank makes available an appliance meeting all the requirements for safe potable water and gives the consumer a device with a high continuous output of hot water, even when demand is high.
Heat Exchanger Design