Heat Exchanger Manufacturers in India
Kettle Reboiler Kettle Type Reboiler Heat Exchanger Manufacturer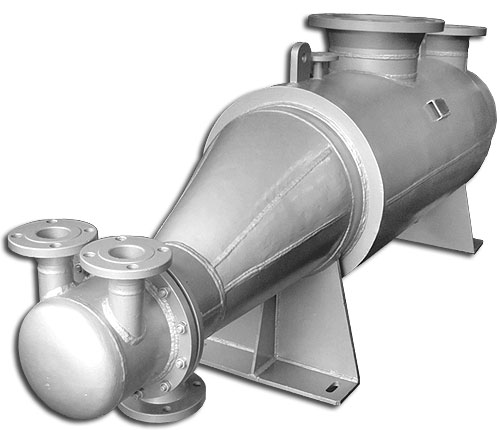 We are the leading manufacturers of Kettle Reboiler Heat Exchanger Kettle Type Reboiler, Kettle Type Condenser, Kettle Type boiler in India. ASME Certified Type Boilers are available as per your requirements.
We offer Kettle Type Reboiler Heat Exchanger, Kettle Type Condenser, Kettle Type boiler and Kettle reboiler, when you are looking for boil up from 20% to 100%. Our kettle reboiler designs are as per ASME standards and with customer specification. Horizontal U Tube bundle will be placed inside of the shell on Kettle Reboilers. Column Internal Reboiler, Forced Circulation Reboilers, Fired reboiler, Thermosyphon reboilers
A Kettle Reboiler Heat Exchanger is the most common type of heat exchanger in all Industries. Mostly used in higher-pressure and Higher Temperature applications.
Kettle Reboiler Heat Exchanger Advantages
Ease of maintenance for Kettle Reboiler
Ease of control for Kettle Reboiler
No limit on vapor load for Kettle Reboiler
Vapor disengaging
Low skirt height
Handles viskosity greater than 5.10-4 Pa.s
Kettle Reboiler Heat Exchanger Disadvantages
Extra piping and space for Kettle Reboiler
Kettle Reboiler is a High cost Heat Exchanger
Low residence time surge section of reboiler
Reboilers are heat exchangers typically used to provide heat to the bottom of industrial distillation columns.

Types of Reboiler
The selection of the proper type of reboiler for a specific service is very important to get best result. Major types of Reboilers are shell and tube heat exchanger type. Typical steam-heated kettle reboiler for distillation towers
Kettle Reboiler
Kettle reboilers are very simple and reliable. Kettle reboilers require pumping of the column bottoms liquid into the kettle OR Kettle reboilers may be sufficient liquid head to deliver the liquid into the reboiler. In kettle reboiler steam flows through the tube bundle.
Thermosyphon Reboiler
Thermosyphon reboilers are not required pumping of the column bottoms liquid into the reboiler. Thermosyphon reboilers including vertical, horizontal, once-through or recirculating.
Fired Reboiler
Fired heaters may be used as a distillation column reboiler. A pump is required to circulate the column bottoms through the heat transfer tubes.

Kettle Reboiler Type Heat Exchanger Manufacturer India
Heat Exchanger Design