Heat Exchanger Manufacturers in India
Double Pipe Heat Exchanger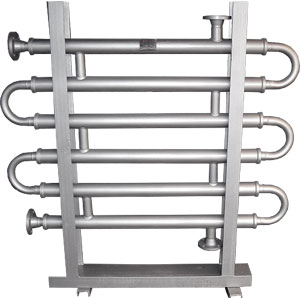 Double Pipe Heat Exchangers

A double pipe heat exchanger is one of the simplest form of Shell and Tube Heat System. Here, just one pipe inside another larger pipe. One fluid flows through the inside pipe and the other flows through the annulus between the two pipes. The wall of the inner pipe is the heat transfer surface. To make an Unit very Compact, The Arrangement is made Multiple Times and Continues Serial and Parallel flow.
This is also called as a hairpin heat exchanger. These are may have only one inside pipe, or it may have multiple inside tubes, but it will always have the doubling back feature shown. In some of the Special Cases the Fins also Used in Tube side.
Types of Double Pipe Heat Exchangers
1. Counter flow and
2. Parallel Flow Heat Exchanger
1. Counter flow

The main advantage of a hairpin or double pipe heat exchanger is that it can be operated in a true counter flow pattern, To get More Efficiency, In the mean Time, it will give the highest overall heat transfer coefficient for the double pipe heat exchanger design.
2. Parallel Flow

Parallel Flow double pipe heat exchangers are focused to handle high pressures and temperatures applications. Also we can Achieve High Log mean Temperature using this.
3. Double Pipe Heat Exchanger Design

Double pipe Heat Exchanger Thermal design is made based on Common Equation Q = UA ?Tlm After determination of the required heat transfer surface area, Other Mechanical Design are made, With reference to Process applications. The Design Process in Completely Simple Compare to All Other Heat Exchanger Design.
4. Construction and Standards:

Before Construction we will have the Clear Discussion with our Customer, To select the Suitable Equipment, For a Customer Application. After Successful Analysis and Design We will submit our Valuable design with Suitable Drawings.
We do Design and manufacturing of the heat transfer equipments as per the TEMA (Tubular Exchanger Manufacturers Association) ASTM Section (VIII) (unfired pressure vessels) BS, DIN Standards. And follows IS 2825, IS 6088, IS 4503, codes.
We are capable to Construct the Hairpin Hear Exchangers in all Ranges based on Needs.
It is an object of the invention to provide an inexpensive double-pipe heat exchanger having high performance and comprising an inner pipe and an outer pipe which constitute a double pipe without adding a heat-transfer facilitating material such as an inner fin. In the double-pipe heat exchanger having the inner pipe and the outer pipe, the outer pipe is dented from its outside toward its inside, thereby forming a plurality of projections which are dented toward the inner pipe.
Heat Exchanger Design