Heat Exchanger Manufacturers in India
Copper Heat Exchangers Manufacturer INDIA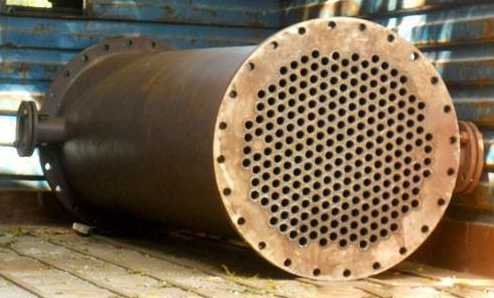 We are the leading manufacturers of Copper heat exchangers in India.
This invention relates to protecting copper articles from a corrosive environment, and in particular, to protecting copper heat exchangers used in refrigerated cargo containers.
The Copper Heat Exchanger Corrosion is good resistance with all types of fresh water. Corrosion rates of Copper Pipe are from 5 to 25 microm/yr. Corrosion rates for water saturated with air and carbon dioxide are an order of magnitude greater than those for municipal or distilled water. Copper also has good resistance to corrosion in seawater. Because of its outstanding resistance to fouling by marine organisms, it is widely used for sheathing on surfaces exposed to seawater. Copper is sometimes used in seawater piping, but copper pipes are subject to corrosion-erosion where the flow velocity is greater than 0.9 to 1.2 m/s. These velocities are often attained at changes in copper pipe cross section or flow direction.Copper-Nickel alloys have a good performance history in numerous heat transfer applications, but instances do arise when corrosion of Copper-Nickel alloy heat exchanger pipes pose problems in industrial heat exchangers.
The corrosion issues are particularly prominent in Royal Navy destroyer ships. The theory is that as Royal Navy ships are "alongside", water no longer flows through the pipes and debris is deposited, forming tiny crevices. This in turn leads to an accelerated rate of corrosion. The Copper-30Nickel had a superior corrosion resistance to the Copper-10Nickel in both the Clyde water and the seawater. The corrosion products and films formed in the two environments were substantially different. The expected green corrosion product was found in seawater, and a purple/ pink and red colour observed in Clyde water. It is clear that the external corrosion environment substantially affect the crevice corrosion mechanisms.
Heat Exchanger Design