Heat Exchanger Manufacturers in India
Brazed Plate Heat Exchangers Manufacturer INDIA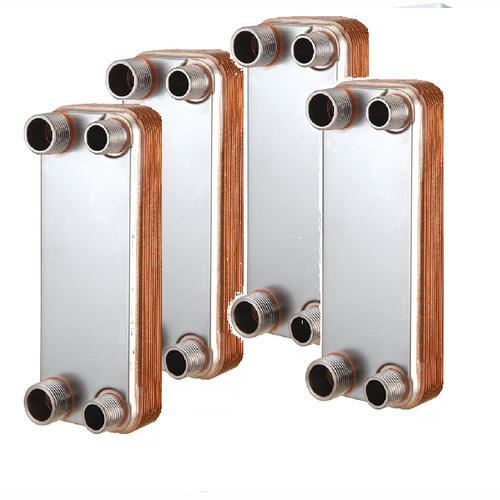 We are the leading manufacturers of Brazed Plate Heat Exchangers in India.
A plate type heat exchanger is a type of heat exchanger that uses metal plates to transfer heat between two fluids. This has a major advantage over a conventional heat exchanger in that the fluids are exposed to a much larger surface area because the fluids spread out over the plates. This facilitates the transfer of heat, and greatly increases the speed of the temperature change. It is not as common to see plate heat exchangers because they need well-sealed gaskets to prevent the fluids from escaping, although modern manufacturing processes have made them feasible.
The concept behind a heat exchanger is the use of pipes or other containment vessels to heat or cool one fluid by transferring heat between it and another fluid. In most cases, the exchanger consists of a coiled pipe containing one fluid that passes through a chamber containing another fluid. The walls of the pipe are usually made of metal, or another substance with a high thermal conductivity, to facilitate the interchange, whereas the outer casing of the larger chamber is made of a plastic or coated with thermal insulation, to discourage heat from escaping from the exchanger. The plate heat exchanger (PHE) was invented by Dr Richard Seligman in 1923 and revolutionized methods of indirect heating and cooling of fluids.
Brazed Plate Heat Exchangers Applications
Domestic water heating
Hydraulic oil cooling
Hydronic heating and cooling
Snow melt systems
Outdoor wood boilers, stoves, furnaces
Radiant floor heating
Beer and wort chilling and other water to water and liquid to liquid heat transfer applications
Plate type heat exchanger one is composed of multiple, thin, slightly-separated plates that have very large surface areas and fluid flow passages for heat transfer. This stacked-plate arrangement can be more effective, in a given space, than the shell and tube heat exchanger. Advances in gasket and brazing technology have made the plate-type heat exchanger increasingly practical. In HVAC applications, large heat exchangers of this type are called plate-and-frame; when used in open loops, these heat exchangers are normally of the gasket type to allow periodic disassembly, cleaning, and inspection. There are many types of permanently-bonded plate heat exchangers, such as dip-brazed and vacuum-brazed plate varieties, and they are often specified for closed-loop applications such as refrigeration. Plate heat exchangers also differ in the types of plates that are used, and in the configurations of those plates. Some plates may be stamped with "chevron" or other patterns, where others may have machined fins and/or grooves.
Liquid foods such as milk, fruit juices, beers, wines, and liquid eggs are pasteurized using plate-type heat exchangers. Wine and fruit juices are normally deaerated prior to pasteurization in order to remove oxygen and minimize oxidative deterioration of the products. Plate-type heat exchangers consist of a large number of thin, vertical steel plates that are clamped together in a frame.
We manufacture plate heat exchanger that are used in dairy, pharma and biotechnology, beverages, brewery, chemical and power sectors. PHE plates are available in MOC AISI 304, AISI 316, AISI 316L, Titanium, Hast alloy, Monel in range thickness from 0.5mm to 0.9mm. It is suitable for handling fluid from 100 LPH to 3.5 Million LPH.
Brazed Plate Heat Exchanger Design
The plate heat exchanger are available in herring bone, free flow and semi welded construction and depending on application respective plates are selected.
Technical data:
heat exchange surface per plate: 0,04 - 2,50 m² §
max. design pressure: 25 bar §
max. design temperature: 170°C

Safety:Our plates are provided with double gaskets at the inlet and outlet which prevent mixing of the two media. If designed as safety heat exchanger, double plates are provided with a special sealing system.Plate material:§ standard: stainless steel 1.4301/AISI 304, 1.4401/AISI 316 § optionally: 1.4539, 254 SMO, titanium Gasket material:§ NBR (nitrile-rubber) § EPDM (ethylene-propylene-rubber) § Viton (fluorine-rubber) § Further materials on request Special series:§ Safety heat exchangers (FPSS) § Stainless steel design for food and FDA applications § Compact double PHE-units including cocks and valves § Design with welded cassettes (FPG)
We manufacture and supply highest quality range of plate heat exchanger using the most advanced technology for a wide series of heat transfer applications used in various industries such as chemical industry, offshore, oil and gas, petrochemicals power plants, pulp and paper, steel, zinc and aluminium, sugar, vegetable oil, breweries / distilleries, dairy / beverages and others. The difference lies at plate design, sealing technology, capacity range, product range etc. We always continue to improve our products to give total customer satisfaction.
Brazed Plate Heat Exchanger Features
High heat transfer coefficients
Optimized heat recovery
Compact constructions
No mixing of product
Flexibility to change plate arrangement and to add / remove plate
Easy maintenance and suitable for CIP, plate pack easily accessible
The brazed plates form two separate channel systems. The two media assume a true countercurrent flow, completely isolated from each other. This channel configuration is designed to produce high turbulence, promoting maximum heat transfer.
Heat Exchanger Design