Heat Exchanger Manufacturers in India
DESIGN OF HEAT EXCHANGERS AND PRESSURE VESSELS
We HTE is ASME (American Society for Mechanical Engineers) approved manufacturers for Heat Exchangers and Pressure vessel, Our products are Designed, Manufactured and Inspected as per the U stamp vessel Consideration. Our Shell and Tube Heat Exchangers Design Process Contains Two Parts - Thermal and Mechanical Design.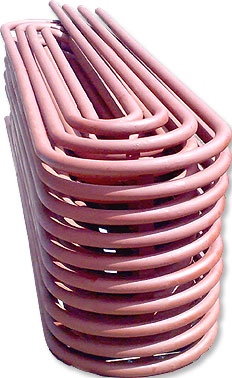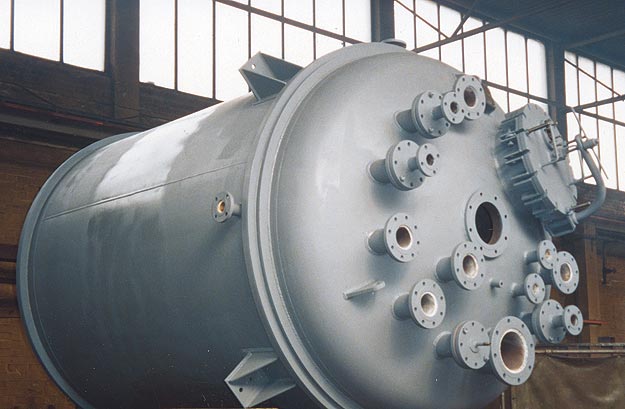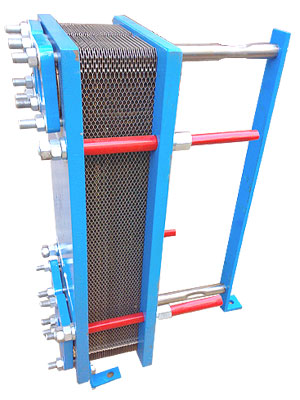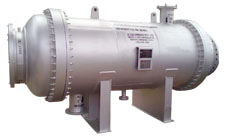 Thermal Design:
1. Consideration of Process Fluids in both Shell and Tube Side,
2. Selection Of Required Temperature Specifications,
3. Limiting the Shell and Tube side Pressure Drop,
4. Setting Shell and Tube Side Velocity Limits,
5. Finding of Overall Heat Transfer Co-efficient of the Heat Exchanger using Appropriate Co-relations.
6. Finding Heat Transfer Area Including Fouling Factor.
Mechanical Design
1. Selection of TEMA Layout – Based on Thermal Design
2. Selection of Tube Parameters - Size, Thickness, Layout, Pitch, material
3. Limiting the Upper and Lower Design on Tube Length
4. Selection of Shell side Parameters – Material Baffle Cut, Baffle Spacing, and Clearances
5. Thermal conductivity of tube material.
6. Setting upper and Lower Design Limits on Shell Diameter, Baffle Cut, Baffle Spacing.
From the approximation of Overall design Parameters – Material selection is made as per
ASME Sec II – Part A –For Ferrous material
ASME Sec II – Part B – For Non Ferrous material
ASME Sec II – Part C – For Welding rods, Electrodes, and Filler metals
ASME Sec II – Part D – For Properties of material
Based on the Selected materials and data's the Mechanical Design completes with
ASME Sec VIII Div 1 – For Pressure Vessels and (U stamp vessels) ASME Sec I – For Boiler and Power Piping's. (S stamp vessels) NBIC–Part (1,2, & 3) – For Repair and alteration of Pressure vessels (R stamp vessels)
1. Shell Thickness
2. Dish Thickness
3. Flanges Selection as per B 16.5 and B 16.47 (A and B Serious)
4. Nozzles and Pipe selection as per ASME B 36.10 M
5. Socket and Pipe Fittings as per ASME B 16.11 M
By following the Quality Control Manuel (QCM), The Design part will be completed with Production drawing, by the HTE Design Team. After Approval of Design calculation and Drawings by the Authorized Inspector.
The Production will start with U stamping procedure. If customer requires, the vessels should be Registered with National Board, We will register with the National Board and we will make an "NB" Stamp on the vessels Name plate with vessel Serial number.
In the Production of Vessels as per Production drawing and Design calculations, Inspection and Testing places a main vital Role in the quality of Output.
Heat Transfer Equipments Pvt Ltd follows the Inspection and Testing plan which is mutually agreed by Authorized Inspector and Client will be used in Each stages of Production activity.
The Acceptance Norms are as Below :
1. ASME Sec IX - Qualification standard for Welding & Brazing procedures, Welders, Blazers and Welding and Brazing operators.
2. ASME Sec V - Non Destructive Examination
3. ASME Sec VIII Div 1 - Acceptable Procedures and Tolerances in Production. Apart from the Shell and Tube Heat Exchanger Design, We follow our Quality control Manuel for the Below Design and Construction for 1. Air cooled Heat Exchangers Design
2. Double pipe Heat Exchangers Design
3. Finned Tube Heat Exchangers Design
4. Plate finned Heat Exchangers Design
5. Condenser Design
6. Air cooled Condensation System Design
7. Kettle Re boilers type Heat Exchangers Design
8. U tube Bundle Heat Exchangers Design
9. Pressure vessels Design
10. Vessels Parts Design
11. Repair and Alteration works Design
12. Heat Recovery systems Design
And other types of Custom made Heating and Cooling Solutions for all Industry with Design, Manufacturing and testing with U stamp (or) S stamp (or) R stamp along with NB Registration. Even for the cases involves structural design also can be done in Heat Transfer Equipments Pvt Ltd facility with High precision output.
Heat Exchanger Design