Heat Exchanger Manufacturers in India
Brazed Aluminum Heat Exchangers Manufacturer INDIA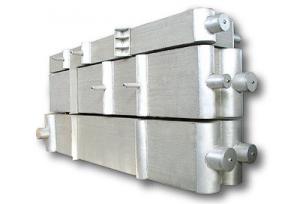 We are the leading and with lots of experience in the design and leading manufacturing suppliers & exporters of brazed aluminum heat exchangers (BAHX). We Heat Transfer Equipments Pvt Ltd located in Coimbatore South India are An ISO 9001-2008 certified Designers, Manufacturers, Suppliers and Exporters of all types of Heat Exchangers and Cooling Towers in India.
Brazed Aluminum Heat Exchanger Design
Our wide experience leads to Heat exchanger designs , design calculation using heat exchanger's designs software. We are in Design and manufacturing and Supply/export of brazed aluminum heat exchanger in india. Even for the cases involves structural design also can be done in Heat Transfer Equipments Pvt Ltd facility with High precision output. We experienced with the various type of clients who are looking for good heat exchanger design and best cost are always buying from us.
Benefits of Brazed Aluminum Heat Exchanger
Lower Operating Temperatures
Lower ancillary costs.
High Quality Design
Easy Installation and Costs
High Process heat transfer fins.
Lightweight
Easy Maintenance
Brazed Aluminum Heat Exchanger Applications
Air separation plants
Ethylene plants
LNG liquefaction
LPG Plants
NGL Recovery
Natural Gas processing plants
Heat recovery plants
Chemical Industries
Oil Plants
Industrial Machines
Helium liquefaction plants
Heat Exchanger Design