Heat Exchanger Manufacturers in India
Calorifiers Tube Bundle Heat Exchanger Manufacturers in India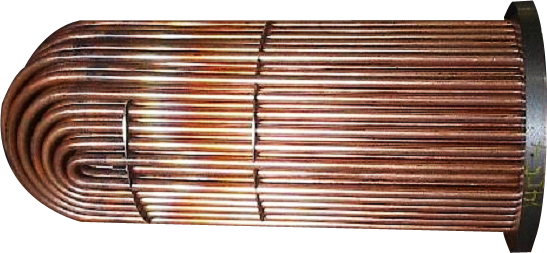 Calorifier is a term used to describe an extensive range of industrial and commercial hot water heaters. High performance tubular heat exchangers ensure Heat Transfer Equipments calorifiers offer the most flexible and economic solution to provide your hot water heating requirements. Heat Transfer Equipments heat exchangers utilize a range of primary heating systems.
Primary Heating Systems
LTHW (maximum temperatures of 100°C)
Low temperature hot water is the most common means of heating. Flows are usually based on a temperature drop of 11°C (from 82–71°C).
MTHW (100°C–120°C)
Medium temperature hot water systems are generally designed on a temperature drop of 30°C (from 120–90°C).
HTHW (temperatures above 120°C)
High temperature hot water systems are generally designed on a temperature drop of 40°C (from 150–110°C). Another important factor in the selection of primary water heating systems is the working pressure. Where the primary working pressure is greater than the shell design pressure the calorifier must be fitted with a bursting disc sized in accordance with the requirements of BS 853. Primary water pressure drops are generally not greater than 25 kPa. With HTHW Systems we recommend the use of flanged connections rather than screwed joints.
Steam
Steam is an ideal medium for water heating. Tubular heat exchangers can be designed to accommodate a wide range of pressures, although most users prefer to have calorifiers operating with pressures below 10 Bar g. Superheat can be accommodated and the degree of superheat should always be stated at the enquiry stage.
Condensate
Condensate tubular heat exchangers can be used to accommodate flash steam and subcool condensate. This harnesses the available heat which would otherwise be discharged from a traditional two pass tubular heat exchanger.
Heat Transfer Oil
Thermal oils have the benefit of high temperature combined with low operating pressures. Tubular heat exchangers are generally manufactured from cupro-nickel or stainless steel, depending on oil type.
Refrigerant
Generally only superheat is taken from systems although condensing units are available. Tubular heat exchangers are designed with double tube sheets incorporating a tell tale leak path. This reduces the risk from cross contamination between the secondary and primary sides.
Waste Heat
Storage calorifiers are a useful means of recovering waste heat from a variety of liquids or vapours and Heat Transfer Equipments offer a special design service for this purpose. Where the temperature or quantity of waste heat is insufficient for the desired output, supplementary heating can be incorporated into the calorifier to boost the storage temperature. The calorifier should be sized to absorb the maximum quantity of waste heat during the time it is available.
Water Hardness
Where it is required to heat water with a high degree of hardness, special precautions should be taken. This is especially true where high primary temperatures are encountered.
Calorifier Codes of Practice
BS 853
BS 6700
BS 5500
Commercial Calorifiers
Shell Materials
Copper Shells
Stainless Steel
Galvanised Steel Shells
Duplex
Cupro Nickel
Heat Exchanger Types
U-Tube Battery = Calorifier
This is the most common type of heat exchanger used in calorifier manufacturing. High efficiency tubes unaffected by thermal expansion provide extremely high levels of reliability. To ensure a high heat transfer capacity a wide range of multi-pass exchangers are available. Standard bundle arrangements are manufactured from 20mm tube although other diameters are used depending upon the duty requirement. Finned and plain tube options enable Heat Transfer Equipments to offer economic solutions to meet the most demanding duties.
Tubes are generally expanded into the tube plates and do not require sealing gaskets or ferrules. For high pressures and temperatures doubled grooved tube plates are offered. For tube bundles with straight lengths greater than 1250mm support baffles are fitted as standard. In order to ease disassembly batteries greater than 380 mm in diameter are fitted with a tapped hole to accept a lifting eye. In addition runner wheels, collar bolts and starting screws can be supplied. Tubes are available in copper, stainless steel,90/10 and 70/30 Cu-Ni.
Double Tube Heaters = Indirect Cylinder
Double tube heaters have replaced annular heaters. Whilst retaining low primary pressure drops and double sided heating surfaces, double tube heaters are of a much stronger construction. The heater is manufactured from pairs of concentric copper tubes and the primary water circulates through the annular spaces with collection headers at the top and bottom of the assembly.
By varying the length and number of tubes a wide range of heating surfaces can be fitted using standard components to construct the different headers. The secondary water is heated by natural convection with an added boost to the water passing the inner tube. The overall heat transfer rate is considerably greater than that achieved by a single annular heater and recovery rates in the order of 20 minutes can be achieved. Double tube heaters are generally used for low pressure applications where the removal of the heater is not required.
Copper Coil
Generally produced from a single tube formed into a helical coil and can operate at a greater pressure than a double tube exchangers. Unfortunately as the cylinder size increases the length of heating coil becomes disproportionately greater and this heater is therefore only practical for moderate size cylinders. The single coil is particularly useful for small flow rates with a large temperature drop such as those found in waste heat recovery and solar heating installations. Double coils are available for low pressure drop applications. Coils are able to withstand high working pressures. They can be safely used for high temperature water systems operating up to 200°C and in small cylinders for high pressure steam applications
Plate Heat Exchangers
Plate Heat Exchangers are compact and assembled from pressed stainless steel plates. Standard material for plates is 316L stainless steel. The plates are held in the exchanger by two methods, brazed and gasketted.
In brazed exchangers the stainless steel plates are copper brazed together to form a very compact and economic design suitable for pressure and temperature limitations 30 Bar g, 185°C. Gasketted plate exchangers use a gasket to seal the plate gap.
The gasket is glued to the plate. The plates can be easily removed for cleaning or maintenance. Maximum design pressure and temperature is dependent upon the frame rating, plate thickness and type of gasket selected.
| | |
| --- | --- |
| | |
| Gasketted Plate Calorifier | Brazed Plate Calorifier |
The plate exchanger offers the user several advantages.
In areas where maintenance space for 'U' tube withdrawal is limited then a plate heat exchanger offers a practical alternative.
A plate heat exchanger can be serviced without any special tools or requiring heavy lifting tackle.
If at a later date the design duty has increased then the plate pack can be easily extended by the addition of plates to increase the
output for gasketted unit or replaced by a brazed unit with a larger plate pack.
U-tube batteries, double tube and coil heaters rely on hot water convection currents to distribute the hot water within the storage
volume. Plate heat exchangers will require a pump to circulate water from the storage volume and through the exchanger.
A plate heat exchanger coupled with a pump on the cylinder side can offer an economic high output calorifier.
Selection Guide
| | | | | | | |
| --- | --- | --- | --- | --- | --- | --- |
| Exchanger Type | Design Pressure | Design Temperature | Material of Construction | Serviceability | Primary Medium | Type of Application |
| Double Pipe/Tube | 3 Bar G | 95 Deg C | Copper | Nil | Water | Standard indirect cylinders,hourly recovery |
| Coil Type | 10 Bar G | 200 Deg C | Copper, SS 316 L | Nil | Water, Oil, Steam, Refrigerant | Indirect cylinders, higher recovery rates, solar heating |
| U Tube | 30 Bar G | 300 Deg C | Copper, SS 316 L, Cupro Nickel 90/10, Carbon Steel | Good | Water, Oil, Steam, Refrigerant | Storage calorifiers, high recovery rate |
| Gasketed Plate | 16 Bar G | 120 Deg C | SS 316 L, Titanium | Good | Water, Oil, Steam, Refrigerant | Waste heat recovery, high  performance duties |
| Brazed Plate | 30 Bar G | 185 Deg C | SS 316 L | Nil | Water, Oil, Steam, Refrigerant | Waste heat recovery, high performance duties |
Calorifiers Tube Bundle Heat Exchanger Applications
Building Services
Electrical
Food
Marine
Offshore
Steam
Pharmaceutical
Petrochemical
Hazardous Area
Process
Heat Exchanger Design