Heat Exchanger Manufacturers in India
Fin Tube Heat Exchangers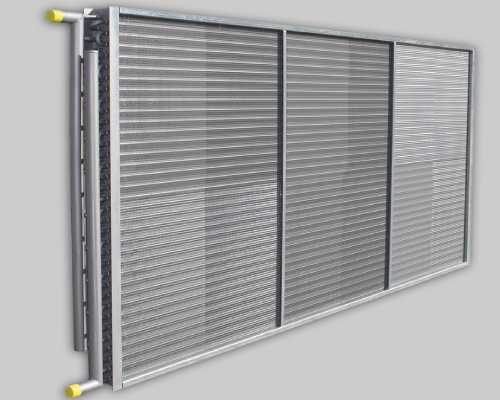 We are the leading manufacturers of Fin heat exchangers in India.
Method of Heat Transfer:
An Fin Tube heat exchanger, is simply a pressure vessel which cools a circulating fluid within finned tubes by forcing ambient air over the exterior of the tubes. Also, This is known as device for rejecting heat from a fluid directly to ambient air. The main advantage of an FTHE is that it does not require water, which means the plants requiring large cooling capacities are need not be located near a supply of cooling water.
Components of Fin Tube Heat Exchanger:

1. Tube Bundle – Contains No of Finned Tubes
2. Fan
3. Fan Ring
4. Plenum
5. Header
6. Nozzle
7. Drive Assembly
8. Column Support
9. Inlet Bell

In all above Types of Heat Exchangers , Main Heat Transfer Elements are:
1. Tubes,
2. Fins and
3. Fan (Actuating Device for Heat Transfer)
Fin Tube Heat Exchanger Applications:
All our Heat Exchangers are customized for each client's needs, thus providing the ability to service nearly every air cooler application. Our air coolers are installed throughout the world in the following applications:
Hydrocarbon process and steam condensers
Large engine radiators
Turbine lube oil coolers
Turbine intercoolers
Natural gas and vapor coolers
Combustion pre-heaters
Flue gas re-heaters
Heat Exchanger Design