Heat Exchanger Manufacturers in India
Shell and Tube Heat Exchangers Calculations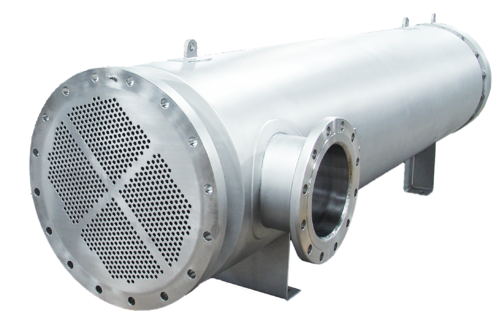 The basic design of Shell and Tube calculation for any heat exchanger is the determination of heat transfer area. Overall the shell and tube practice it is more common to assume that fluid properties can be treated as constant at the bulk average values, and approximate the design equations.The Shell and tube Heat Exchanger is a acceptable from the thermal point of view and one may go on to pressure drop calculation.In the calculation of Pressure drop , the pressure drop of each stream must be less than ,but not greatly less than , and the allowable values. If the calculated pressure drop is much less than that allowed, it will probably prove possible to reduce the size of the Heat Systems.The calulation of Shell and Tube Heat systems having calculated methods of tentative sizing , thermal rating, heat transfer co-efficient inside a tube. Shell and Tube Design is a software tool that is made to demonstrate the chemical design & rating calculations of Shell & Tube Heat Exchangers.Unlike other tools, ensures that the calculations are performed step by step to help in understanding the design calculations.
Shell and Tube Heat Exchangers Step by Step Calculations
Estimate the Physical properties of more than 1450 components
It has ability to estimate Thermal Conductivity, Density, Heat Capacity and Viscosity. The database also included critical
properties, boiling and melting points.
Estimate mixture properties.
Integrated customised database functions to allow user to add/delete compnents.
Ability to import properties to Shell/Tube sides form Microsoft Excel
Export Results summary to Microsoft Excel
Ability to calculate unknown shell or tube side temperatures by iteration method (solving by trial and error)
Also can select from different correlations to calculate shell or tube heat transfer coefficient
Calculate the scale resistance.
Shell/Tube side Reynolds and Nusselt numbers
Buffle spacing.
Recommended minimun shell thickness, minimum recommended number and diameter of rods.
Duty Calculation
Overall heat transfer coefficient
Shell/Tube velocities.
Save/Load results.
Heat Exchanger Design