Shell and Tube Heat Exchanger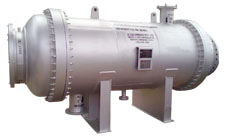 A Fixed Tube Sheet heat exchanger is the most common type of heat exchanger in all Industries. Mostly used in higher-pressure and Higher Temperature applications. Fixed tube Sheet heat exchangers are the one that are very much used in process chemical industries and refinery services, as there is absolutely no chance for intermixing of fluids. This type of heat exchanger is employed where even slightest intermixing of fluids can not be tolerated.
Finned Tube Heat Exchanger

An Finned Tube heat exchanger, is simply a pressure vessel which cools a circulating fluid within finned tubes by forcing ambient air over the exterior of the tubes. Also, This is known as device for rejecting heat from a fluid directly to ambient air,The main advantage of an FTHE

Air Cooled Condenser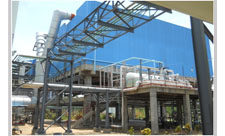 We are Heat Transfer Equipments Pvt Ltd providing solution for Air Condenser system for all types of Thermal Power plants, Air cooled Condenser system will cover from Turbine Generator outlet to the deaerator Inlet. Our Air cooled condensers are economical and pollution free system. So, the usage of water is 0% in the project. In this type of condensers, Steam to be condensate is passing through the seamless tubes of min 1 inch diameter (Large as per steam flow rate). Here secondary fluid is atmospheric air. which is from 30 Deg C to 48 Deg C based on location of erection. API 661 and ASME Sec VIII Div 1 standards
U Tube Bundles

In nuclear power plants called pressurized water reactors, large heat exchangers called steam generators are two-phase, shell-and-tube heat exchangers which typically have U-tubes. They are used to boil water recycled from a surface condenser into steam to drive a turbine to produce power
Pressure Vessels Manufacturers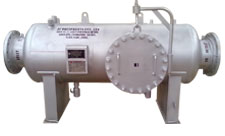 We Heat Transfer Equipments Pvt ltd extend our global services with design and manufacturing of all types of pressure vessels for the Industries with (or) with out U stamp as required. Below are some of pressure vessels up to 250 bar pressure can be manufactured in Heat Transfer Equipments Pvt Ltd. Mist Eliminators Filter housings, Air receivers, Headers, Storage tanks, Column, Vacuum pre concentrator, Nuclear waste storage tanks, Economizer coils, Feed surge drums etc.
Double Pipe Heat Exchanger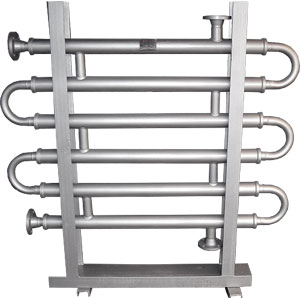 A double pipe heat exchanger is one of the simplest form of Shell and Tube Heat Exchangers. Here, just one pipe inside another larger pipe. One fluid flows through the inside pipe and the other flows
Dry Cooling Tower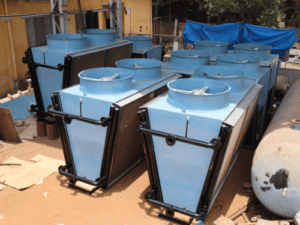 We are Heat Transfer Equipments Pvt Ltd established in 1989 and also have many years experienced in the fields of Cooling Tower Manufacturer. We have member with (CTI USA) Cooling Technology Institute USA. Dry Cooling Towers are commonly used in the Power Plant, it is latest model cooling tower. A lots of power plants are cooled simply by air. Dry Cooling Tower is an equipment which is used dry cooler of defensive the working fluid from ecological revelation and contamination. There is no loss of water by evaporation because No water consumption in this type of cooling tower and also, we install the dry cooling tower in a right manner....
Kettle Reboiler

We manufacture Kettle Reboiler Heat Exchanger when you are looking for boil up from 20% to 100%. Our designs are as per ASME standards and for your specification. We are the leading manufacturers of Kettle Type Reboiler Heat Exchanger

Plate Heat Exchangers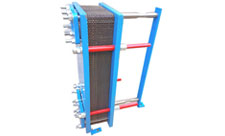 We are the leading manufacturers of Plate heat exchangers in India. We manufacture and supply highest quality range of plate heat exchanger using the most advanced technology for a wide series of heat transfer applications used in various industries such as chemical industry, offshore, oil and gas, petrochemicals power plants, pulp and paper, steel, zinc and aluminium, sugar, vegetable oil, breweries / distilleries, dairy / beverages and others. The difference lies at plate design, sealing technology, capacity range, product range etc. We always continue to improve our products to give total customer satisfaction. A plate type heat exchanger is a type of heat exchanger...
Air Cooled Heat Exchangers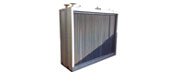 Air cooled heat Exchangers are same In the Functions of Finned Tube Heat Exchanger. This type of Heat Exchangers are Specially used in Large Quantity cooling Requirements. We are main Suppliers Air cooled Heat Exchangers for Oil Refineries and Process Fluid Cooling. Types of Air cooled Heat
About
Heat Transfer Equipments Pvt Ltd is one of the leading manufacturers of all types of Industrial Heat Exchanger India located in coimbatore south India. Manufacture and export all types of industrial heat exchanger in INDIA. Our team have a wonderfull wide knowledge and well experienced in deciding the design as per your requirements. We are the leading Heat Exchanger Manufacturer in India.
In general a Heat Exchanger India is a device built for efficient heat transfer from one fluid to another, whether the fluids are separated by a solid wall so that they never mix, or the fluids are directly contacted. They are widely used in petroleum refineries, chemical plants, petrochemical plants, natural gas processing, refrigeration, power plants, air conditioning and space heating. One common example of a heat exchanger India is the radiator in a car, in which a hot engine-cooling fluid, like antifreeze, transfers heat to air flowing through the radiator.
The Heat Exchanger can be used in industrial oil coolers, industrial boiler coolers, industrial chilled water systems, industrial ground water systems, industrial transmission and engine coolers, industrial waste water heat recovery and industrial condensers and evaporators in refrigeration systems. We Specialised in Heat Exchanger solutions and leading Heat Exchanger Manufacturer in India. More...
Heat Exchanger Design